11:FS Fintech Insider Podcast: EP. 722-How do you choose the right investment path for your business?
insights
2023-03-31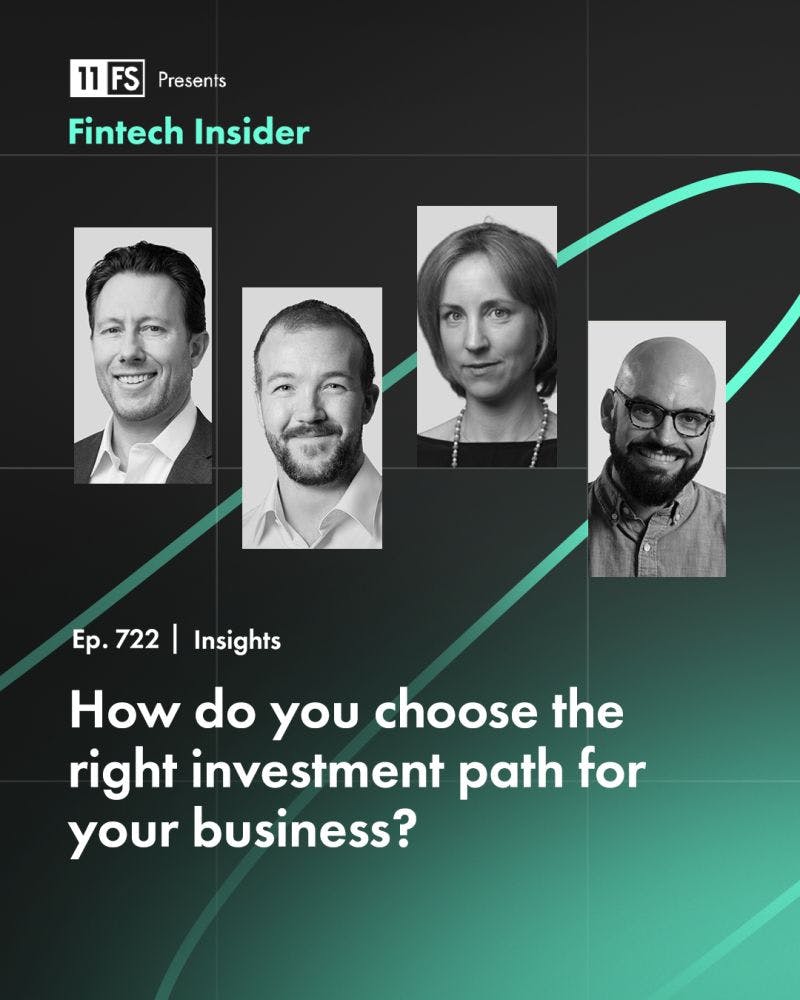 Show Overview:
Fintech Insider by 11:FS is a bi-weekly podcast dedicated to all things fintech, banking, technology and financial services. Hosted by a rotation of 11:FS experts including David Brear, Jason Bates, and Ross Gallagher and joined weekly by a range of fantastic guests, they discuss the latest news, developments, and trends within the industry.
On Fintech Insider Insights, they speak to subject matter experts for deep dives on APIs, AI, digital banking, and all other areas disrupting our industry. Fintech Insider Interviews brings you one-on-one interviews with the thought leaders and innovators transforming financial services.
Whether you're a fintech expert or you're just keen to know more, then this is the podcast for you!
Episode Overview:
Our expert host, David M. Brear, is joined by some great guests to ask: "How do you choose the right investment path for your business?"
This week's guests include:
- David T Frank, CEO & Founder, Stonehaven LLC
- Joshuah Lebacq, Director at NA Ventures, National Bank Of Canada
- Ruth Foxe Blader, Partner, Anthemis
Investment has been the rocket fuel in the jetpack of fintech's success to date.
But it might be time for fintechs to think strategically about where and who signs the cheques which help them to grow.
So, in this show, we've put together a panel of amazing experts to discuss how investment looks in 2023, how to choose the right path, and how investors maintain a relationship.
To listen to the podcast, click one of the links below:
About Stonehaven, LLC
Stonehaven is a private capital markets FinTech operating system (technology + infrastructure + data) and collaboration network (origination + distribution) for investment bankers and placement agents (Affiliate Partners) to support companies and investors. Our next generation operating system supports the entire lifecycle of deals: sourcing, contracting, due diligence, identifying target investors/buyers, managing execution (robust CRM architecture), collaborating with other dealmakers, reporting and closing transactions. Our Affiliate Partners are active across all sectors of private capital markets: raising capital, executing M&A transactions and conducting secondaries.
LATEST NEWS
Jun 06, 2023

Brahm Pillai, Founder & Executive Officer of Pillai Capital, Joins Stonehaven's Affiliate Platform

read more

Jun 05, 2023

Matt Johns, Principal of HoneyHive Capital, Joins Stonehaven's Affiliate Platform

read more

May 08, 2023

Wharton FinTech Podcast: David Frank, Founder & CEO of Stonehaven - Creating the Nexus of Capital and Opportunity

read more
SEE ALL NEWS