Mark Sullivan and Vik Magdani Interview at the ACG NY 15th Annual Healthcare Conference | March 2023
in-the-news
2023-04-04
Mark Sullivan, Chief Growth Officer & Partner of Stonehaven, sits down with ACG NY during the 15th Annual Healthcare Conference. The event assembled over 450 senior Middle Market Healthcare payers, providers, systems, top private equity, family office, and strategic buyers representing billions of dollars ready to invest in the North American Healthcare Sector.
Click HERE to watch the video of Mark Sullivan and Vik Magdani.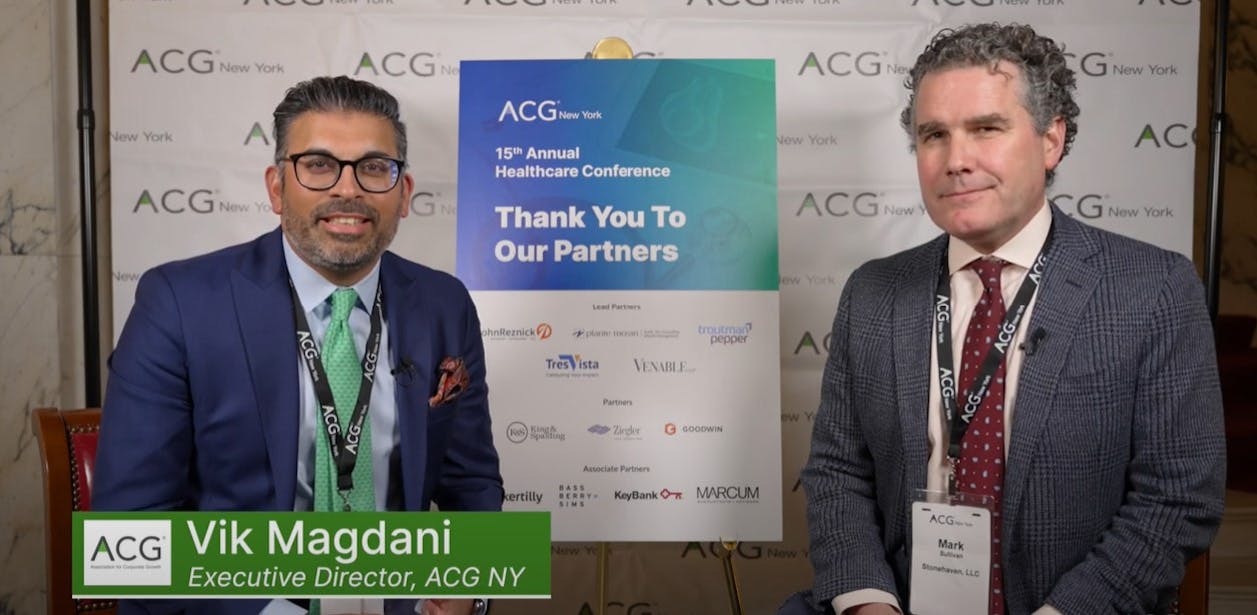 About Stonehaven, LLC
Stonehaven is a private capital markets FinTech operating system (technology + infrastructure + data) and collaboration network (origination + distribution) for investment bankers and placement agents (Affiliate Partners) to support companies and investors. Our next generation operating system supports the entire lifecycle of deals: sourcing, contracting, due diligence, identifying target investors/buyers, managing execution (robust CRM architecture), collaborating with other dealmakers, reporting and closing transactions. Our Affiliate Partners are active across all sectors of private capital markets: raising capital, executing M&A transactions and conducting secondaries.
LATEST NEWS
Jun 06, 2023

Brahm Pillai, Founder & Executive Officer of Pillai Capital, Joins Stonehaven's Affiliate Platform

read more

Jun 05, 2023

Matt Johns, Principal of HoneyHive Capital, Joins Stonehaven's Affiliate Platform

read more

May 08, 2023

Wharton FinTech Podcast: David Frank, Founder & CEO of Stonehaven - Creating the Nexus of Capital and Opportunity

read more
SEE ALL NEWS