Bank on It Podcast: Episode 577 David Frank from Stonehaven
insights
2023-06-29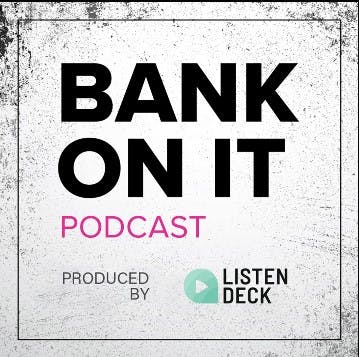 About the Host:
John is the founder of ListenDeck, a full-service podcast and video production company, which has produced over 1000 episodes of various podcasts. He is the host of the 'Bank On It' podcast, which features over 500 episodes starring high-profile fintech leaders and entrepreneurs.
Episode Overview:
In this episode, the host John Siracusa chats remotely with David Frank, Founder & CEO at Stonehaven. Stonehaven is a global private capital markets FinTech platform for a diverse community of investment bankers and placement agents.
About David Frank
David founded Stonehaven in 2001 and pivoted it into a fintech business in 2018. Prior to Stonehaven, he worked at Robertson Stephens in San Francisco. David graduated with honors from the University of Michigan with a BBA; he is a CFA Charterholder and holds the Series 7, 24, 31, 66, 79, and 99 registrations with FINRA. He is also an active member of the Young Presidents' Organization, where he helps lead the Investment Banking Network.
About Stonehaven
Stonehaven's platform enables affiliate partners, companies, and investors to strategically connect across the globe, leveraging its operating system and collaborative community. Stonehaven, LLC is an SEC Registered Broker Dealer and FINRA Member Firm. Stonehaven is active across real estate, private equity, venture capital, private credit, hedge funds, long-only strategies, direct private placements, secondaries, and M&A.
To listen to the podcast, click one of the links below:
About Stonehaven, LLC
Stonehaven is a private capital markets FinTech operating system (technology + infrastructure + data) and collaboration network (origination + distribution) for investment bankers and placement agents (Affiliate Partners) to support companies and investors. Our next generation operating system supports the entire lifecycle of deals: sourcing, contracting, due diligence, identifying target investors/buyers, managing execution (robust CRM architecture), collaborating with other dealmakers, reporting and closing transactions. Our Affiliate Partners are active across all sectors of private capital markets: raising capital, executing M&A transactions and conducting secondaries.
LATEST NEWS
Sep 19, 2023

Rob Lingle of Pacific Alternative Investments LLC, Joins Stonehaven's Affiliate Platform.

read more

Sep 18, 2023

Christian Wood of Solomon Gideon Capital, Joins Stonehaven's Affiliate Platform.

read more

Sep 18, 2023

Johnny Ruiz of Solomon Gideon Capital, Joins Stonehaven's Affiliate Platform.

read more
SEE ALL NEWS