M&A Talk Podcast: Digging Into the World of Fintech and Private Capital Markets
insights
2023-04-27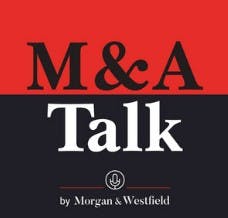 Show Overview:
M&A Talk is the #1 podcast on mergers & acquisitions. At M&A Talk we bring you exclusive interviews with experts in business sales, valuations, mergers and acquisitions, and more. We talk to the most experienced professionals in the industry to uncover their secrets
Episode Overview:
What is the current state of fintech, fundraising, and private capital markets? David Frank, founder and CEO of Stonehaven, a company that's developed a fintech operating system for investment bankers and investors in private capital markets, shares insights he sees through his company. From a high-level look at fintech and the future of AI to developing a global workforce and differences between venture capital, private equity, and public markets – this is much more than a high-level fintech conversation.
To listen to the podcast, click one of the links below:
Topics Covered:
- What does Stonehaven do? [1:20]
- Why is an operating system necessary for intermediaries in M&A transactions? [5:10]
- What is a professional investor? [7:36]
- What are the different types of capital raising? [13:10]
- What different types of capital raising options are there for private equity transactions? [13:08]
- What percentage of venture capital (VC) deals involve intermediaries? [14:31]
- What are the different concerns between venture capital and private equity companies? [19:49]
- Are there any notable differences between the private and the public capital markets right now? [23:57]
- How are investors responding to investment opportunities? Are they excessively concerned about exit options in the future and other dynamics outside of a particular industry? [26:09]
- What global issues are professional investors most concerned about? [35:07]
- How concerned are investors about the ability of companies to obtain talent? Is this leading the drive toward global workforces? [37:06]
- What has the experience been like for Stonehaven in moving to a global workforce? [39:49]
- What's the biggest challenge, from a cultural standpoint, in having a global team? [41:52]
- To what extent are investors using global remote talent? [46:57]
- What is the market right now for hedge funds and in the public markets, and what are the correlations between the markets? [51:44]
- What is the impact of artificial intelligence (AI), and to what extent are investors in technology, like AI, concerned about the current market dynamics? [54:23]
- How is the investment and business landscape changing with the increased utilization of AI? [57:50]
About Stonehaven, LLC
Stonehaven is a private capital markets FinTech operating system (technology + infrastructure + data) and collaboration network (origination + distribution) for investment bankers and placement agents (Affiliate Partners) to support companies and investors. Our next generation operating system supports the entire lifecycle of deals: sourcing, contracting, due diligence, identifying target investors/buyers, managing execution (robust CRM architecture), collaborating with other dealmakers, reporting and closing transactions. Our Affiliate Partners are active across all sectors of private capital markets: raising capital, executing M&A transactions and conducting secondaries.
LATEST NEWS
Jun 06, 2023

Brahm Pillai, Founder & Executive Officer of Pillai Capital, Joins Stonehaven's Affiliate Platform

read more

Jun 05, 2023

Matt Johns, Principal of HoneyHive Capital, Joins Stonehaven's Affiliate Platform

read more

May 08, 2023

Wharton FinTech Podcast: David Frank, Founder & CEO of Stonehaven - Creating the Nexus of Capital and Opportunity

read more
SEE ALL NEWS