FundFire – BlueCrest Redemptions Raise Red Flags
in-the-news
2015-08-19
By Rachael Levy.
BlueCrest Capital Management has lost at least $790 million in U.S. mandates since last year, highlighting a continuing downward trend in the firm's assets – one that observers say could threaten the firm's long-term investor relationships. A lawsuit that came to light last week may not help, either, they add.
Michael Platt's Jersey-based hedge fund firm manages $9 billion today, down from $37 billion at its peak in May 2013. The current asset level is more in line with what the firm had in 2009, when it managed $11.4 billion.
Since last year, the firm has lost at least $791.5 million in investments from pensions, foundations and endowments, according to an analysis by FundFire Alts of data from Mandatewire and other industry sources.
Several of the pensions that fired BlueCrest cited underperformance, particularly the firm's flagship macro fund. Earlier this year, that fund was hit by $2.7 billion in redemption requests, as reported.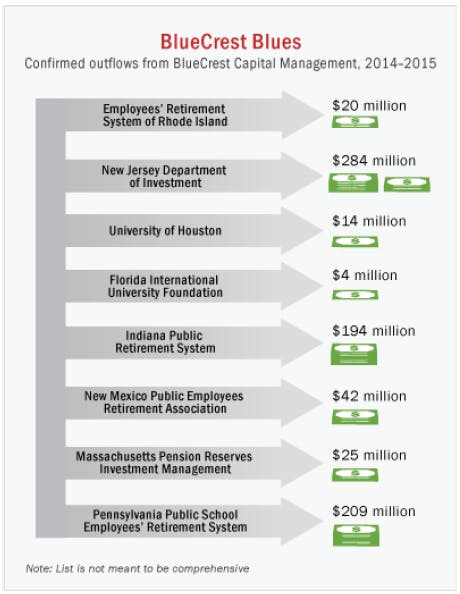 The New Jersey Department of Investment announced it would redeem a $284 million investment earlier this year from the firm's BlueCrest Capital International macro fund. Last year, the Pennsylvania Public School Employees' Retirement System pulled $209 million because of underperformance, a spokeswoman says. And the Employees' Retirement System of Rhode Island yanked a $20 million investment in June after BlueCrest produced "poor" returns.
From January 2012 through January 2015, the fund "performed poorly with an annualized return of 0.65% net of fees," Rhode Island's consultant, Cliffwater, wrote in a February note that recommended the divestment. "As part of its longer term underperformance, the fund produced a -5.99% return in January," the consultant added. That loss was related to a wrong way bet on the Swiss franc trade – the same one that pummeled other macro funds, including Fortress Investment Group, as reported.
And the University of Houston's endowment terminated its $14 million in BlueCrest's AllBlue hedge fund of funds in May, also because of underperformance, a spokeswoman confirmed.
Other big allocators have also pulled out of BlueCrest funds, though not explicitly because of performance.
The Indiana Public Retirement System terminated $193.5 million mandates last September "due to other opportunities that are expected to constitute a better long-term fit," according to documents obtained by FundFire Alts. The Indiana pension had been invested in BlueCrest's macro fund and the BlueTrend fund, which BlueCrest portfolio managerLeda Braga spun out earlier this year. That move helped bring down the firm's assets under management as Braga took $8.4 billion to her new firm, Systematica Investments.
Braga's firm has since held onto key mandates in BlueTrend, including $200 million from theNew York City Employees' Retirement System and $40 million from the Fire and Police Pension Association of Colorado, which originally invested in January 2014, according to director of liquid strategies Austin Cooley.
Firms experiencing significant outflows similar to BlueCrest can face even more trouble down the line, observers say.
"Momentum plays a significant role in capital raising, helping drive the velocity of whatever direction funds are flowing, especially when there is a catalyst," says David Frank, CEO of third party marketer Stonehaven. "While fund flows aren't always a good indicator of future performance, allocators often follow each other's lead."
Redemptions could also affect morale within the firm and overall performance, says Sam Diedrich, a portfolio manager at PAAMCO. "It definitely needs to be carefully monitored," he says. "Business stability is one of the key risks."
On top of the outflows, BlueCrest is now a defendant along with several other managers in a federal lawsuit. While the suit was filed in June, it came to light last week in a Bloomberg News report.
A slew of investment firms are accusing BlueCrest of hiring Christian Bittar, who it allegedly knew had rigged public interest rates when he previously worked at Deutsche Bank. Bittar resigned from BlueCrest last year, Bloomberg previously reported.
The suit alleges that a BlueCrest employee also conspired with other banks to manipulate the Swiss franc Libor rate in 2005. BlueCrest says it will "vigorously defend" itself and won't fire the other employee accused in the suit because it is "satisfied with our employee's continued suitability to serve," according to a statement.
"We strongly believe that the claim against us is completely without merit and we intend to vigorously defend ourselves in respect of the allegations made," the statement says. "We are surprised to have been named as a defendant but fully expect to be removed from these proceedings in due course."
A spokesman declined to comment about the firm's outflows.
Such a lawsuit can raise red flags, even when the manager is vocally contesting the charges.
"BlueCrest is rather belligerent in how they're responding to these allegations," says Marcia Selz, president of Marketing Matrix International. "They would be much better off saying 'We're not admitting guilt and we're going to resolve this, settle in some way…' The longer they prolong this, the longer it will be in the consciousness of institutional investors."
Legal issues, along with the loss of major accounts, are more likely to cause investors to redeem than poor short-term performance, says Don Steinbrugge, managing partner at third party marketer Agecroft Partners.
"If there's a hint of some sort of wrongdoing, that is really hard to recover from," says Diedrich, the portfolio manager at PAAMCO. "They need to be communicating to their investors about why it is or isn't an issue, and how they will deal with it. And the investor needs to be comfortable that they didn't do anything wrong."
About Stonehaven, LLC
Stonehaven is a private capital markets FinTech operating system (technology + infrastructure + data) and collaboration network (origination + distribution) for investment bankers and placement agents (Affiliate Partners) to support companies and investors. Our next generation operating system supports the entire lifecycle of deals: sourcing, contracting, due diligence, identifying target investors/buyers, managing execution (robust CRM architecture), collaborating with other dealmakers, reporting and closing transactions. Our Affiliate Partners are active across all sectors of private capital markets: raising capital, executing M&A transactions and conducting secondaries.
LATEST NEWS
Jun 06, 2023

Brahm Pillai, Founder & Executive Officer of Pillai Capital, Joins Stonehaven's Affiliate Platform

read more

Jun 05, 2023

Matt Johns, Principal of HoneyHive Capital, Joins Stonehaven's Affiliate Platform

read more

May 08, 2023

Wharton FinTech Podcast: David Frank, Founder & CEO of Stonehaven - Creating the Nexus of Capital and Opportunity

read more
SEE ALL NEWS