FundFire – Hedge Fund Marketers Move on Consolidation Pressure
in-the-news
2015-11-09
By Rachael Levy.
Third party marketers for alts firms are teaming up with other players to compete in a tighter hedge fund sales race, driven by fee compression and increasing demands for more institutionalized operations, market observers say.
Recent moves include Agecroft Partners, which markets hedge funds, acquiring a boutique marketer, Alta Via Advisors, and investment bank Stifel Financial scooping up alts marketer Eaton Partners.
Marketers are working harder to net top hedge fund clients even as they face fee pressures. Consolidation can help marketers increase client access and build out institutionalized operations, says Andrew Saunders, senior managing director at Castle Hill Capital Partners, an institutional marketing and brokerage services advisor.
"Just as there used to be a time when two people and a Bloomberg could start a hedge fund, two sales people and a Rolodex used to be enough for a marketing firm – but that's no longer the case," he says.
Investors are clamoring for institutionalized hedge funds. In a similar way, marketers need more complex internal systems to compete, including for branding and compliance functions, Saunders says.
"The access to information is broader; the competition for capital is steeper," he says. "It's a different world than when the hedge fund industry was more of a cottage industry."
More than 500 third party marketers now compete globally, says Don Steinbrugge, managing partner at Agecroft. "[A] vast majority of those firms are having significant difficulty attracting high quality hedge funds to represent," he says.
Marketers also are facing added pressure on their own margins, he says.
"[They] also having difficulty negotiating terms with the hedge funds they ultimately sign up with," Steinbrugge adds. "A lot of these smaller firms are viewed more as a commodity and are treated that way during the negotiating process."
Indeed, large third party marketers have a competitive advantage in areas such as compliance, accounting, technology and due diligence, says David Frank, CEO at Stonehaven, a third party marketing shop that also runs a platform that hosts independent marketers.
"Only a handful of firms have the scale to justify making the critical investments in management and operations team and infrastructure to operate at a truly institutional level," Frank says in an email. "These investments are hard to justify without a sizable and stable revenue base, but also create a competitive advantage, helping justify consolidation."
Agecroft, which announced that it acquired Alta Via last week, is planning on more strategic acquisitions in the future, Steinbrugge says. In this first acquisition, Agecroft is bringing overAndrew Feldman, Alta Via's founding principal, who will oversee European operations and some North American clients.
Last month, St. Louis-based Stifel – a retail brokerage and investment bank – acquired Eaton, citing the marketer's "extensive relationships with private equity firms, hedge funds, high-net-worth-family offices, and institutional investors," according to a company statement.
The partnership will "enhance [Eaton's] ability to compete and succeed at the highest level of the global placement business," Eaton founding partner Charlie Eaton says in the statement. The merger is set to bring in more than 60 Eaton employees in six offices.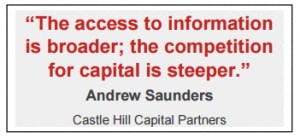 Such moves follow a broader shift within the alternatives industry. Private equity placement agents – the equivalent of hedge fund third party marketers – also are increasingly teaming up with others as a means of survival, as reported. Placement agents are also building out new client channels and expertise in new types of funds.
Hedge fund industry marketers are finding new opportunities as well, as managers build out their liquid alts efforts, a growing business with investor channels that are untapped for many private market hedge funds, as reported. For example, a hedge fund manager backed by the family office of TPG Capital co-founder David Bonderman teamed this year with Havener Capital Management, a third party marketing shop, to sell its liquid and private hedge funds.
About Stonehaven, LLC
Stonehaven is an industry leading global placement agent focused on hedge funds, private equity, real estate, venture capital, private placements, and long‐only strategies. Stonehaven's platform serves as a nexus between select investment opportunities and the institutional investment community with a talented capital raising team and robust infrastructure. The Firm's dynamic structure fosters an ever‐ evolving stable of distinctive managers to match the demand across the diverse investor community. Founded in 2001 by CEO David Frank, the Firm is entirely management owned, giving it complete independence to continue pursuing its entrepreneurial approach while maintaining the highest ethical and regulatory standards.
LATEST NEWS
Feb 27, 2023

Howard Abrahams, Founder and President of Morewood Capital LLC, Joins Stonehaven's Affiliate Platform

read more

Feb 15, 2023

Matthew Balaker, Director of Aureate Capital LLC, Joins Stonehaven's Affiliate Platform

read more

Feb 14, 2023

Oliver Tilleard, Founder and Managing Partner of Oxon Capital, Joins Stonehaven's Affiliate Platform

read more
SEE ALL NEWS