Hedge Fund Alert – Fund Marketer Begins Hiring Spree
in-the-news
2013-07-10
Hedge Fund Alert
Placement agent Stonehaven is expanding its staff. Mark Sullivan joined the New York firm this week as a partner, following the arrival late last month of Igor Gourari as controller. Stonehaven next plans to hire four marketing professionals, with the possibility of adding more positions in the next 6-12 months. The effort is aimed at boosting headcount by at least 25%, to a total of 25-30 staffers. Sullivan will oversee origination and product management. He is joining Stonehaven from Man Group, where he spent the past two years managing sales and product develop- ment in the U.S. He previously was the chief financial officer and chief operating officer at Ore Hill Partners, which Man acquired in 2011. Earlier in his career, Sullivan worked at Credit Suisse and Morgan Stanley. Gourari has worked as a hedge fund auditor at PricewaterhouseCoopers and RSM McGladrey. More recently, he did a brief stint as chief financial officer at an undisclosed energy focused hedge fund firm. Stonehaven's client roster includes seven hedge funds operated by SEC-registered managers, according to Hedge Fund Alert's Manager Database. In addition, the firm has revenue sharing agreements with seven other private-fund marketers, under which it provides a range of due-diligence, legal, technology and other support services in exchange for a cut of the firms' cashflows. Stonehaven and its partners also can cross-market each others' fund clients. Among the affiliates are Arcticon Capital of New York, Hollister Capital of Charleston, S.C., Ridgeway Capital of New York and LS Group, a Pittsburgh private equity marketer founded by professional football legend Lynn Swann. Despite a tough fund-raising environment, Stonehaven and its partners have raised more than $1 billion in the past two years.
David Frank founded Stonehaven in 2001 after working in the mergers-and-acquisitions group at Robertson Stephens, a boutique investment bank in San Francisco that shut down following the collapse of the dot-com bubble.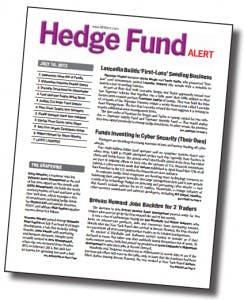 HEDGE FUND ALERT: JULY 10, 2013, 5 Marine View Plaza, Suite 400, Hoboken NJ 07030. 201-659-1700
About Stonehaven, LLC
Stonehaven is a private capital markets FinTech operating system (technology + infrastructure + data) and collaboration network (origination + distribution) for investment bankers and placement agents (Affiliate Partners) to support companies and investors. Our next generation operating system supports the entire lifecycle of deals: sourcing, contracting, due diligence, identifying target investors/buyers, managing execution (robust CRM architecture), collaborating with other dealmakers, reporting and closing transactions. Our Affiliate Partners are active across all sectors of private capital markets: raising capital, executing M&A transactions and conducting secondaries.
LATEST NEWS
Jun 06, 2023

Brahm Pillai, Founder & Executive Officer of Pillai Capital, Joins Stonehaven's Affiliate Platform

read more

Jun 05, 2023

Matt Johns, Principal of HoneyHive Capital, Joins Stonehaven's Affiliate Platform

read more

May 08, 2023

Wharton FinTech Podcast: David Frank, Founder & CEO of Stonehaven - Creating the Nexus of Capital and Opportunity

read more
SEE ALL NEWS