Hedge Fund Alert – Stonehaven Continues Staff Buildup
in-the-news
2013-12-11
Placement agent Stonehaven has added four sales professionals and an operations specialist to its staff.
The recruits started Dec. 2, with Gerald Brant, Matthew Mlinarich, Joseph Azzaro and Timothy Boardman focusing on managing relationships with institutional investors in hedge funds and private equity vehicles. Brittany Parisi, meanwhile, handles a range of operational tasks as an associate. Their arrivals follow a buildup of the firm's management and operations team in July. The additions on the sales side mark a major expansion of Stonehaven's in-house marketing capabilities, considering that founder David Frank had been handling investor-outreach ef- forts on his own since starting the New York operation in 2001. Brant and Mlinarich are the highest-ranking of the recruits, both with the title of director. Azzaro and Boardman are vice presidents. Brant most recently was a managing director at Tangent Capital, an investment-banking firm that works solely in the alternative-investment industry. Mlinarich was head of alter- native investments at FCE Group, a $1.2 billion wealth manager where he also sat on the investment committee. Azzaro previously was an assistant vice president in the credit-risk management department at Deutsche Bank. Boardman worked on business development and marketing at $6 billion private equity firm MatlinPatterson. The new sales staffers' duties are distinct from those of Affiliate Platform — a series of joint ventures in which Stonehaven offers technology, legal and due-diligence support to eight other capital-raising shops in exchange for cuts of their revenues. As for Parisi, she supports both Stonehaven's management and its marketing team on matters including administration, operations, information, technology and relations with clients and vendors. She previously was an analyst at Barclays.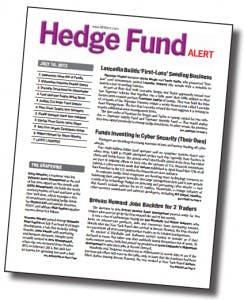 HEDGE FUND ALERT: December 11, 2013, 5 Marine View Plaza, Suite 400, Hoboken NJ 07030. 201-659-1700
About Stonehaven, LLC
Stonehaven is an industry leading global placement agent focused on hedge funds, private equity, real estate, venture capital, private placements, and long‐only strategies. Stonehaven's platform serves as a nexus between select investment opportunities and the institutional investment community with a talented capital raising team and robust infrastructure. The Firm's dynamic structure fosters an ever‐ evolving stable of distinctive managers to match the demand across the diverse investor community. Founded in 2001 by CEO David Frank, the Firm is entirely management owned, giving it complete independence to continue pursuing its entrepreneurial approach while maintaining the highest ethical and regulatory standards.
LATEST NEWS
Feb 27, 2023

Howard Abrahams, Founder and President of Morewood Capital LLC, Joins Stonehaven's Affiliate Platform

read more

Feb 15, 2023

Matthew Balaker, Director of Aureate Capital LLC, Joins Stonehaven's Affiliate Platform

read more

Feb 14, 2023

Oliver Tilleard, Founder and Managing Partner of Oxon Capital, Joins Stonehaven's Affiliate Platform

read more
SEE ALL NEWS