HFMWeek Best Practice 2016 – Inside a Market Leader
press-releases
2016-12-13
David Frank, CEO of the placement agent Stonehaven, speaks to HFMWeek about the company's unique approach and subsequent success
HFMWeek (HFM): Please provide a summary of Stonehaven.
DavidFrank(DF): Stonehaven is a 15-year-old global platform focused on raising capital across the hedge fund, private credit, private equity, and real estate sectors. We have considerable depth including six management and operations professionals, four salespeople and an additional 15 affiliate partners, tightly integrated independent capital raising placement agents structured as joint venture partnerships on Stonehaven's open architecture platform. We have raised approximately $4bn since inception and are entirely management owned.
HFM: What is Stonehaven's approach to identifying opportunities?
DF: Stonehaven's ability to source, evaluate and partner with asset managers that have a high likelihood of raising capital, retaining that capital and producing strong risk-adjusted returns is paramount to our success. Today's capital raising environment is absolutely one of the most challenging in the history of the alternative investment industry, and the resources required to mount an institutional calibre capital raising campaign are immense. As a result, Stonehaven has spent considerable time coding the qualities we believe are most likely to predict capital raising success into a consistent process aided by an internal scorecard framework. Stonehaven focuses on strategy, track record, team, profile, infrastructure and capital raising disposition in our intensive evaluation of managers. Not surprisingly, these qualities are highly aligned with those sought by the allocator community, augmented by the fact that we inter into intensive day-to-day operating relationships with our managers and rely on their business success as well as their investment success to achieve our goals. Our internal capital raising team only actively raises capital for a relatively small number of long duration manager relationships at any given time, so we only seek to add 1-3 new manager relationships annually for this component of our business. Our affiliate partners represent over 20 additional managers on our platform, and we work closely with them to evaluate and manage these relationships. The nature of our business is such that we manage long term, collaborative, strategic and tightly integrated capital raising relationships. To do so, we seek managers that embrace our significant input related to marketing strategy, sales process, material content and design, communications strategy, team development, business strategy and systems and service providers. Given we maintain active relationship with a very broad set of investors, we seek comprehensive relationships with managers that view us as true long-term partners. It's only with a comprehensive, total market approach that we can justify making the sig- nificant investments necessary to successfully execute on helping the manager realise the full vision for their business.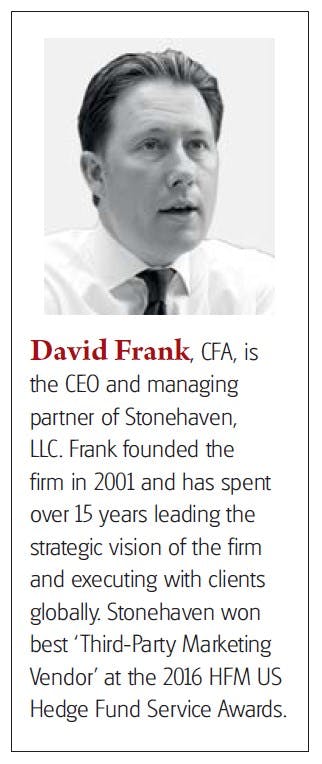 HFM: What differentiates Stonehaven's approach to raising capital?
DF: Before going live with a new mandate in the market- place, we invest considerable time upfront helping position a manager, developing a roll-out strategy, and identifying the appropriate prospects to pursue based on our market intelligence. Stonehaven's internal sales team maintains high-touch coverage of the top 1,000+ allocators in the Americas. Moreover, Stonehaven has worked very hard to build a sales culture focused on engaging with investors with a product specialist approach. We build trust and influence with our relationships through competency, consistency, and providing highly personalised coverage. We record every interaction with the marketplace and use that information to build highly insightful real-time analytics. This enables us to better identify prospects for products, track the path of sales dynamics, optimise sales strategy, prioritise where to spend time on pipelines, track closing timelines and provide transparency to our managers.
HFM: What distinguishes Stonehaven's infrastructure?
DF: Stonehaven has one of the largest management and operations teams in the industry with extensive resources dedicated to product development (sourcing, due diligence, legal), sales management (strategy, pipeline optimisation, logistics management, reporting) and operations (technology, compliance, accounting). Stonehaven also leverages a highly customised proprietary technology infrastructure to intelligently approach the marketplace and move faster to better serve our clients. We maintain a pro-active dialogue with regulators with industry best practices.
HFM: How would you characterise Stonehaven's culture?
DF: Stonehaven has the speed and flexibility of an entrepreneurial organisation while also embracing a process-centric and institutional culture. Our growth is the result of strong execution, a long-term vision and a commitment to continually reinvest back into our business. A strong reputation is earned by consistently exceeding expectations while remaining professional and humble. The strength and success of our business is derived from long-term relationships with managers, investors, affiliate partners, service providers and industry participants built on a foundation of mutual trust and respect. We empower all members of our team to be leaders in their respective roles while focusing on group achievement. There are no shortcuts to building a strong and sustainable business. With our vision pointed in the right direction, our strong work ethic will determine the majority of our success.
HFM: How is the capital raising industry evolving and how is Stonehaven adapting?

DF: The marketplace for hedge fund capital raisers has bifurcated into 5-10 institutional calibre capital raising organisations and 100-200 smaller boutiques. Managers are best suited to work with an institutional calibre organisation if they are seeking a partner (versus a service provider), strategic advisory (versus quick pointers), end- to-end sales execution (versus introductions) and a sizable sales team with top credentials (versus a loosely organised small team). The sales cycle with allocators has lengthened materially over the last 5-10 years. From our experience we have found that approximately 25% of investors close a placement with seven or less manager calls/meetings, 50% of investors close a placement with 8-12 manager interactions, and 25% close with 13 or more manager interactions. If you add in the number of interactions between capital raisers and investors excluding the manager, the total number investor touch points is typically 15-40 to close a placement. Running a multi-hundred prospect pipeline requires robust and sustained resources. This lengthy process requires the ability to maintain deep engagement with investors, identify and overcome objections, navigate the decision making hierarchy, build strong systems to manage dynamic pipelines and apply never-ending tenacity. Stonehaven has been engineered to thrive in this environment. Today, allocators expect to engage with and track managers across a multitude of mediums including one-on- one meetings/calls, group meetings/calls, conferences, databases, data rooms, letters and social media. Each touchpoint impacts the brand of a manager, and each year this process has become more intense and complicated. Further, fund flows have continued to narrow to a smaller and smaller number of managers able to gain market share. Capital raising momentum helps drive further capital rais- ing success, making the relationship between the investments a firm makes into capital raising and their success raising capital exponential when the other necessary ingredients are in place. This has increased the value of a placement agent like Stonehaven that can provide insightful advice from a team that has successfully helped build a large number of asset managers, quickly engage deeply in the marketplace and multi-task operationally. Specialised capital raising boutiques require significant infrastructure to successfully execute mandates and meet manager's institutional requirements. Stonehaven has created a unique business model with our affiliate platform to allow these organisations to leverage our backbone including due diligence, deal structuring, compliance, strategy, accounting, legal resources, and integrated technology systems. This foundation and support allow affiliate partners to focus on their core competency: sourcing and structuring high quality investment ideas to introduce to their ever-evolving network of investor relationships. Moreover, we have created a synergistic product platform for our affiliate partners to collaborate on mandates, significantly widening their opportunity sets. Running this platform simultaneously with managing our internal sales team provides Stonehaven highly unique market insights across a very wide range of alternative investment strategies and investor relationships globally.
About Stonehaven, LLC
Stonehaven is a private capital markets FinTech operating system (technology + infrastructure + data) and collaboration network (origination + distribution) for investment bankers and placement agents (Affiliate Partners) to support companies and investors. Our next generation operating system supports the entire lifecycle of deals: sourcing, contracting, due diligence, identifying target investors/buyers, managing execution (robust CRM architecture), collaborating with other dealmakers, reporting and closing transactions. Our Affiliate Partners are active across all sectors of private capital markets: raising capital, executing M&A transactions and conducting secondaries.
LATEST NEWS
Nov 16, 2023

Mike Mitchell of Connective Capital, LLC, Joins Stonehaven's Affiliate Platform.

read more

Oct 26, 2023

Anthony Kloszewski of First Strike Securities, LLC, Joins Stonehaven's Affiliate Platform.

read more

Oct 12, 2023

"Preqin – 2023 Service Provider Report; Stonehaven Featured as a Top Placement Agent

read more
SEE ALL NEWS